From the user interface, go to the System Setup & Install menu option.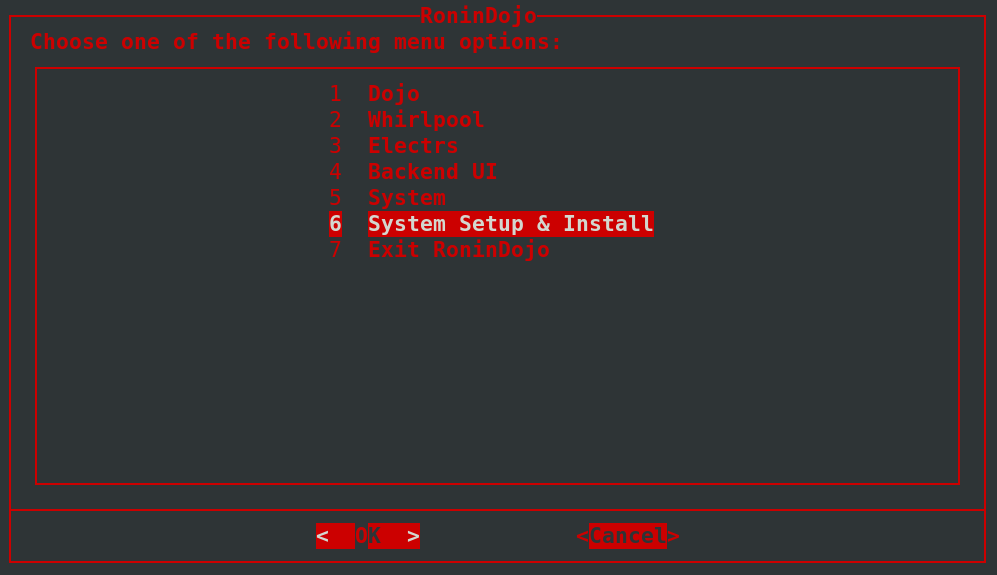 Using the Mouse Click or Spacebar, select the following. The install will take at least 30 minutes.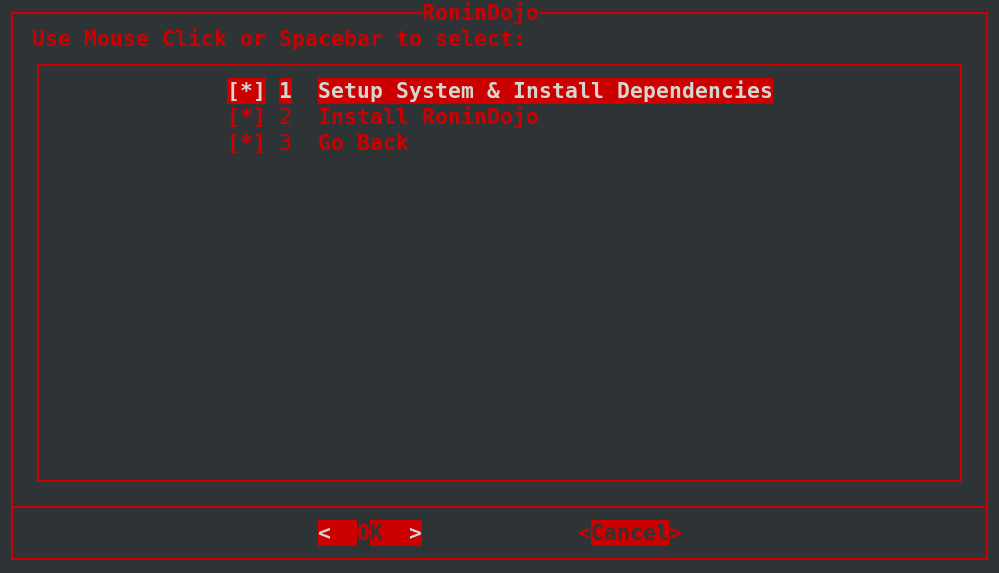 [*]Setup System & Install Dependencies
[*]Install RoninDojo
[*]Go Back
During install, when prompted, press Y or N for Indexer and Electrs. Indexer is useful for querying balances, and Electrs is great for anyone that wishes to use a hardware wallet with their RoninDojo.
Once finished installing, you will see each docker container start up. Your RoninDojo is now downloading the enitre Bitcoin blockchain. This process can take anywhere between 2 and 4 days depending on your chosen hardware and internet speeds. At this time it is safe to press any letter to continue forward. If you have blockchain data available from a previous installation, then it will be salvaged at this point.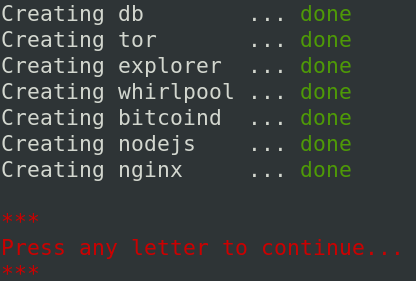 If you selected to install the Indexer or Electrs, the compaction will begin shortly after the bitcoin blockchain is downloaded. This compaction takes about 8 hours.
Please note, there is a Blockchain Data Salvage check built in to RoninDojo. In the unlikely event that you break something, reflash your SD card, and get your machine back online with all your hard earned block data.
Your node will not be fully functional until the initial blockchain download and indexer compaction is complete.
After the Initial Blockchain Download has finished, you can pair your Samourai Wallet with your RoninDojo using the following steps.
Obtain the Tor hidden service address for the Dojo Maintenance Tool by going to the Dojo Menu, and selecting Credentials.
Paste the address into your Tor browser (v3 onion address) and sign into the tool with your password (admin key).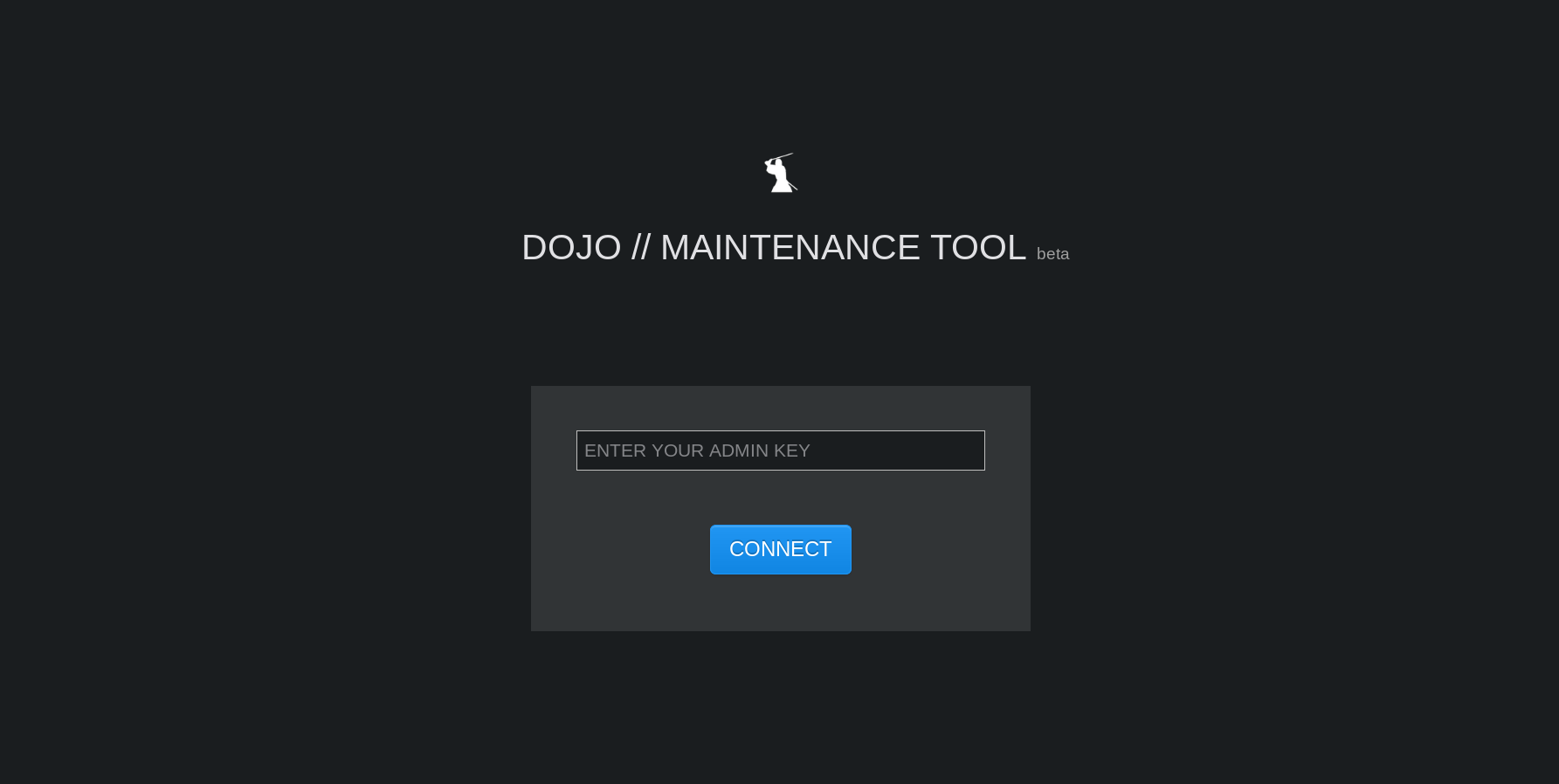 Get your smartphone, launch the Samourai Wallet App, but do not make a new wallet yet. When you first open the app, select the [⋮] (3 dots) in the upper right corner, and choose "Connect to existing Dojo".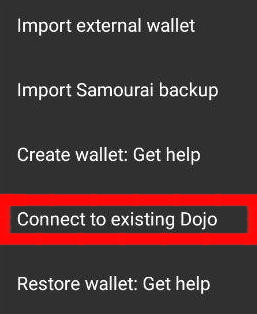 Scan the QR Code displayed in the "Pairing" tab of the maintenance tool. If you experience any problems when pairing, try re-installing the app and select "Connect to existing Dojo" from the [⋮] (3 dots) menu.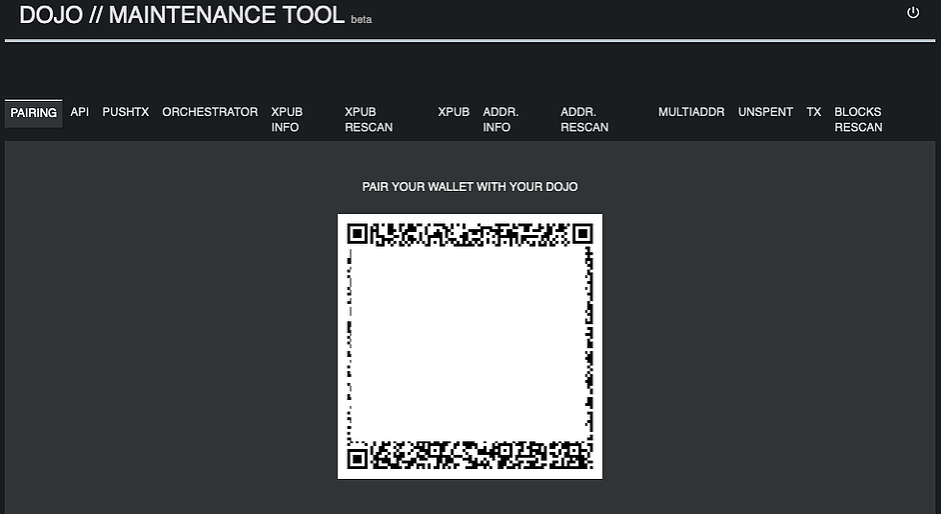 Continue to Whirlpool section (below) when ready.



Your Dojo, Whirlpool, and Block Explorer are ready to be used once the Initial Blockchain Download has finished!



Please note, there is a Blockchain Data Salvage check built in to RoninDojo. If you break something, simply flash a new SD card, and start again.
Continue on to Whirlpool section.
See here for more info on Checking Bitcoin Logs and progress.
Check out the Troubleshooting page for more info.
Need help? Join the RoninDojo Chatroom.
Return to Wiki Homepage.