Whirlpool Stat Tool was created by Laurent of the OXT team to calculate the anonymity set for a given Whirlpool transaction. This is done by looking at two different sets of scores: Backward and Forward.
Backward Anonset: This effectively tells you how many potential ancestors (previous peers) that can be traced from the given transaction to the genesis mix of that pool. So in simple terms, how many UTXOs could potentially be your premix UTXO. "This score does not change. It is frozen based on the ancestral Premix UTXOx that have entered the pool prior to your joining."
Forward Anonset: This score tells you the number of Postmix UTXOs that descended from your transactions that have not been remixed. After your first mix, your anonset is 5, but say 1 postmix got a remix (leaves 4 from original post transaction) and now 5 new postmix UTXOs that could be your UTXO, making the new score 9. Thus, the more you or your peers remix, the greater the Forward-looking Anonset score. So even if you don't personally get mixes, as long as others you mix with do, your anonset increases.
Anyone that deploys a RoninDojo will notice that the Whirlpool Stat Tool is installed by default.
For more information check out the Article by Samourai Wallet and the Github for Whirlpool Stat Tool.


Within RoninDojo command line menus, go to Samourai Toolkit > Whirlpool Stat Tool. The script will then automatically run.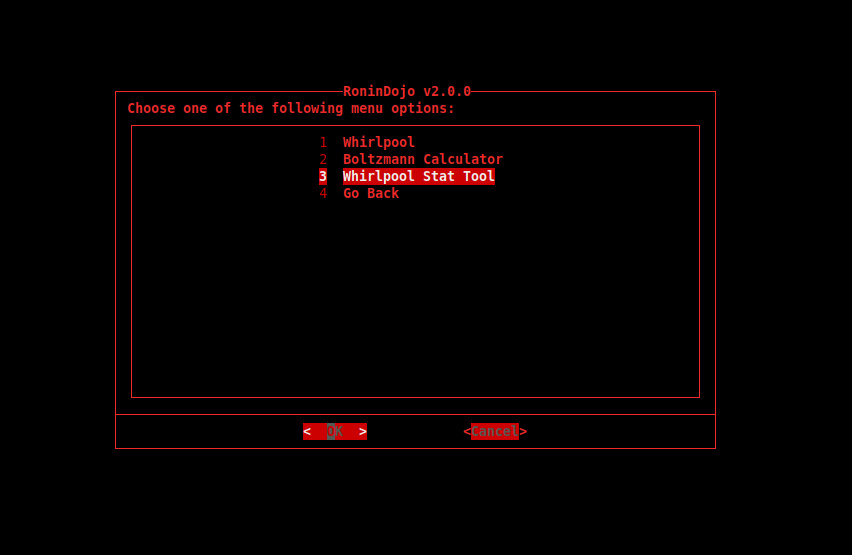 Use the same menu option to access the Whirlpool Stat Tool anytime.
Select the Whirlpool Stat Tool option from Whirlpool Menu



After Instructions are gone, press any key and then you will see wst#/tmp>



Set your proxy to Tor to pull data from OXT privately socks5 127.0.0.1:9050



Download a snapshot for the pool you wish to calculate (001 = 0.01, 005 = 0.05, 05 = 0.5)
Load the snapshot of the pool you wish to calculate

load 001 This will take some time for pools 005 and 001

NOTE This must be done individually each time you wish to calculate a pool

Calculate for your txid (for this example 001 so a postmix id from 0.01 pool)
Example:
Backward-looking metrics for the outputs of this mix:
  anonset = 2590
  spread = 95%

Forward-looking metrics for Tx0s outputs having this transaction as their first mix:
  anonset = 562
  spread = 64%

The score that is shown is your forward and backward looking "anonset" set for the given TXID. Type quit anytime to exit the tool.
If you would like to explore more of the extra features of your RoninDojo, continue onto the Boltzmann Calculator page.
Check out the Troubleshooting page if you have any questions.
Need help? Try out our Support Service.
Join the RoninDojo Chatroom.