Sparrow Wallet is a desktop only bitcoin wallet, available on all major platforms that provides a fantastic alternative to Electrum or Specter. Sparrow provides huge amounts of detail to the user relating to their UTXO's, transactions and balances, and is compatible with almost every hardware wallet on the market.
Sparrow Wallet can connect directly to Bitcoin Core, but for better privacy and performance it is recommended to back Sparrow Wallet using an Electrum Server. RoninDojo comes as standard with 'SW Indexer' which is optimised for Samourai Wallet, however Ronin users can easily switch to Electrum Rust Server (Electrs) in the Application Management menu to swap between the two at any time. Using Electrs still allows for performant use of Samourai Wallet but also facilitates the connection to any othe wallet application that opts to use an Electrum Server as their backend.
You must be using Electrs as your RoninDojo indexer to connect Sparrow Wallet.
After activation, Electrs will take around 10 hours to fully index the blockchain. Do not attempt to carry out the following steps until this time has passed. To confirm that Electrs has completed indexing you can view indexer logs on your Ronin UI. If they are updating every 30 seconds and moving down the screen then you are good to go. If not, give it some more time before continuing.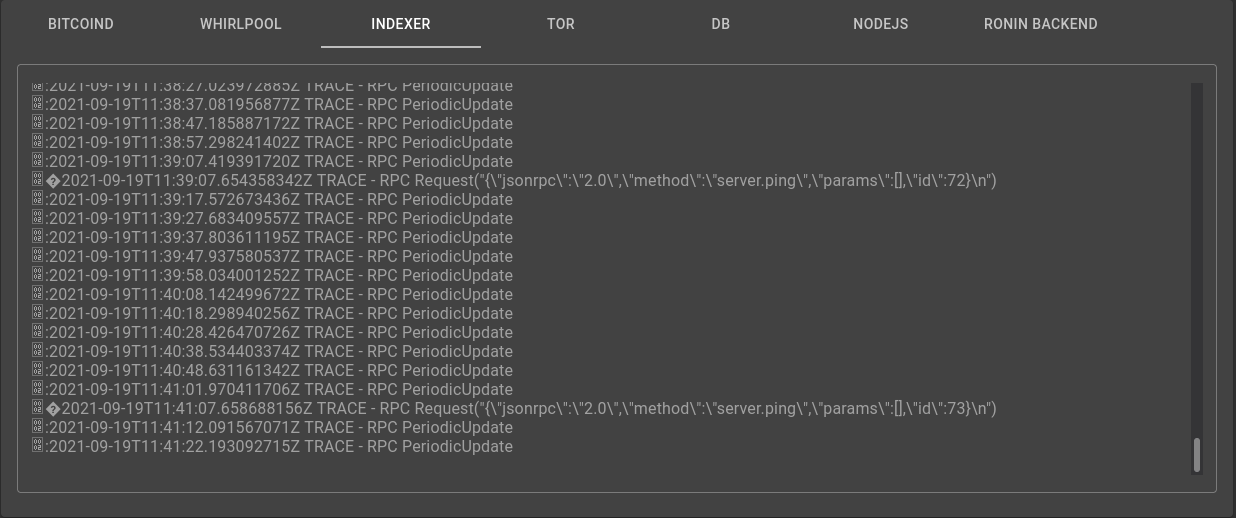 Download files for Sparrow Wallet are available for Mac, Windows and Linux. They can be found here.
Copy the Tor hidden service address for Electrs from Credentials page of the RoninDojo command line menus.
Open Sparrow and go to File > Preferences > Server.

Select 'Private Electrum' in the server type section.

Paste the Electrs .onion address into the 'URL' field in Sparrow.
Set the 'URL' port to 50001.

Enable 'Use Proxy', and paste 127.0.0.1 into the 'Proxy URL' field.
Set 'Proxy URL' port to 9150 (or 9050 for Deamon)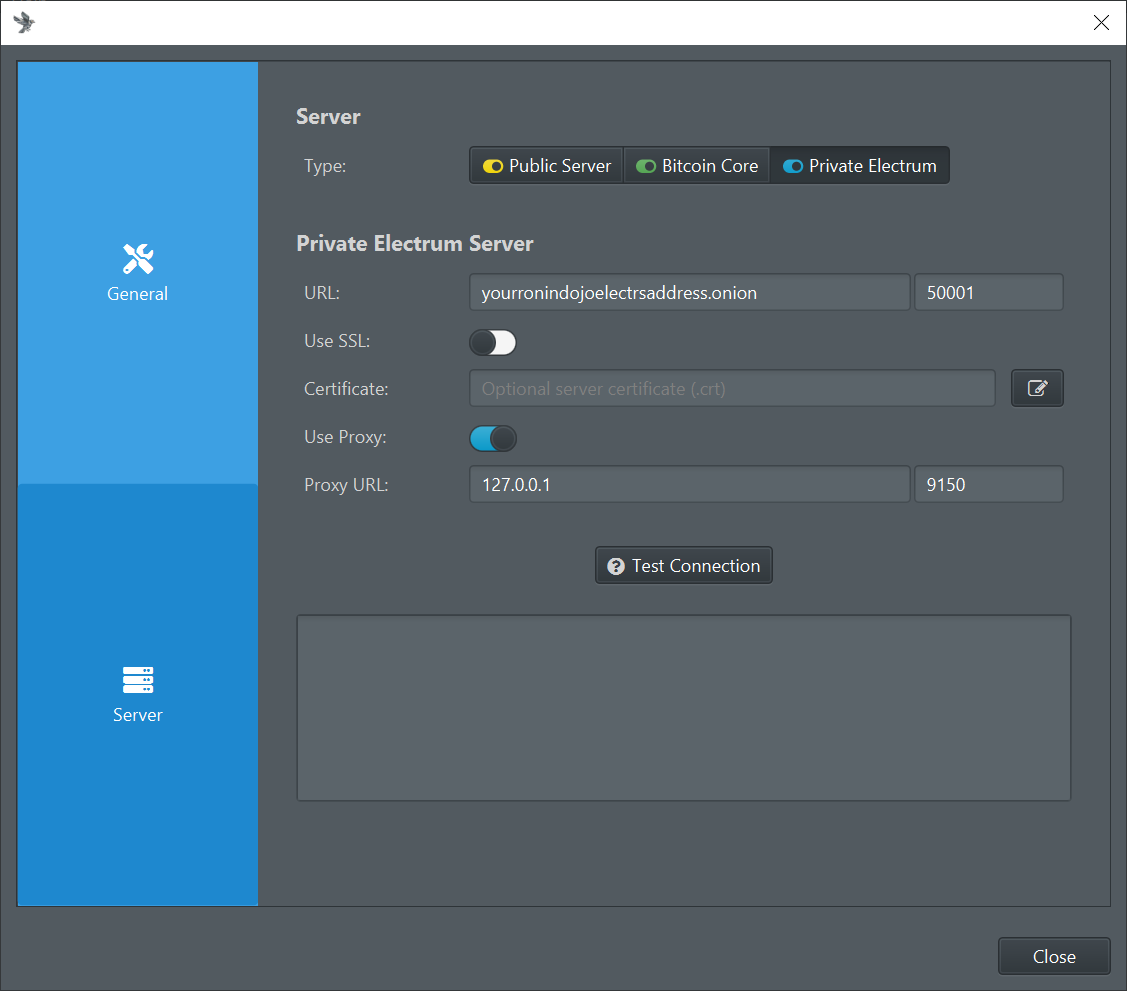 Click 'Test Connection' and you should see a success message at the bottom of the screen.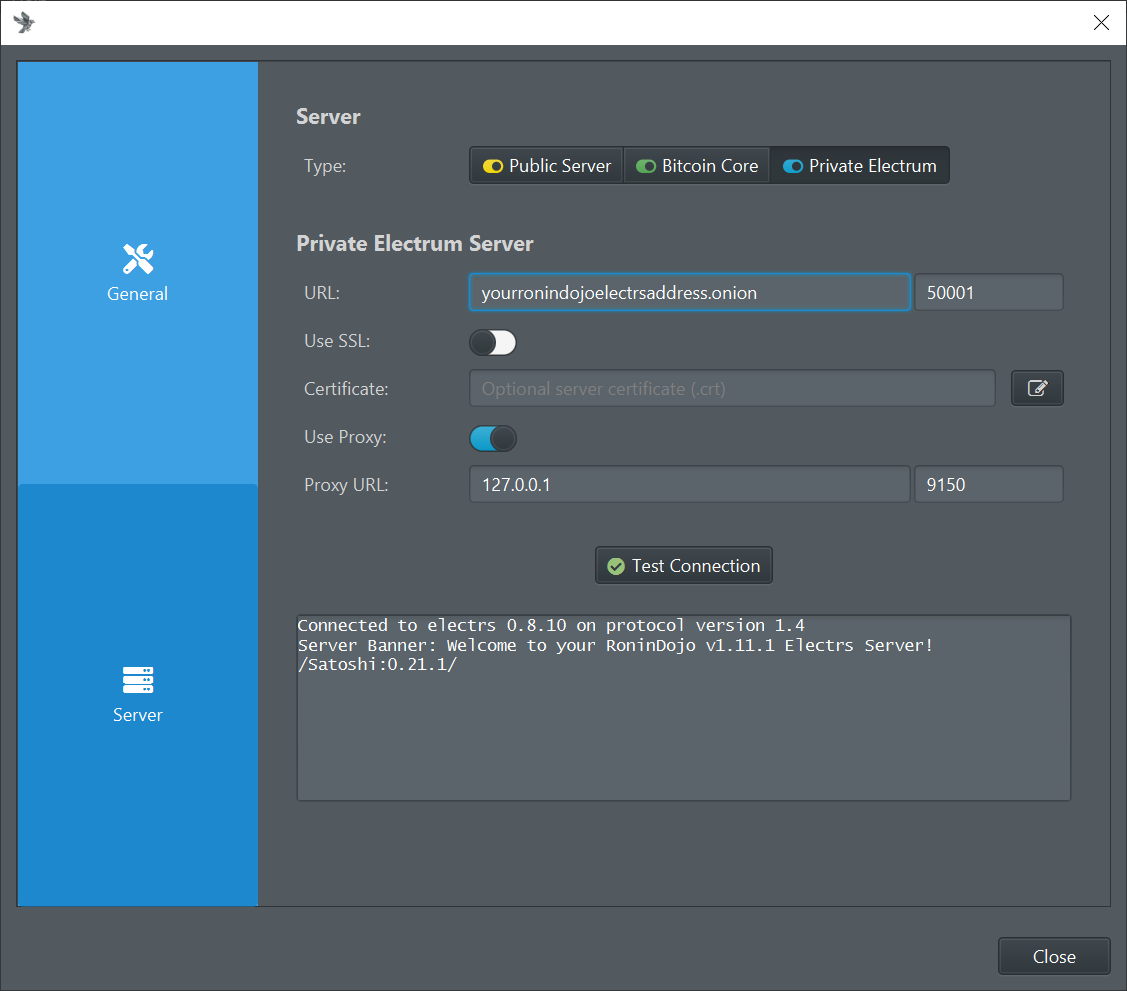 ---
For more information on how to utlize your hardware wallets with Sparrow, see here and here
Check out the Troubleshooting page if you have any questions.
Need help? Try out our Support Service.
Join the RoninDojo Chatroom.