RoninDojo is the backend for your Samourai Wallet. It interacts with the underlying Bitcoin software to manage and process your incoming and outgoing transactions, ensuring that they abide by it's bitcoin rules. It is the software that has your back 24/7, ensuring nobody you interact with can cheat you.
From the user interface, navigate using your keyboard arrows and the enter button to get to the System Setup & Install menu option.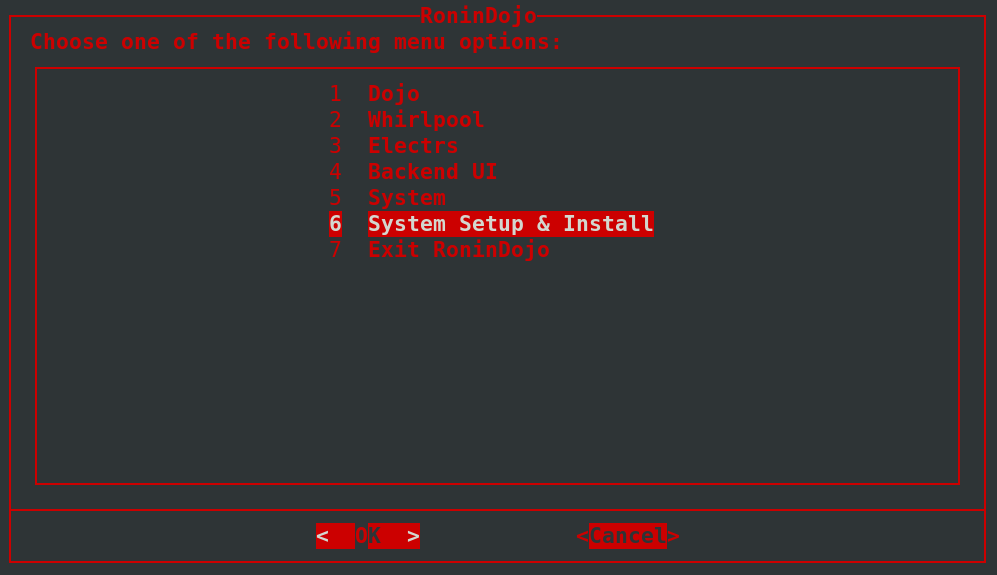 Using the arrow keys navigate to each of the menu items listed below and select each one using the spacebar. When you press OK the install will start and should take at least 30 minutes.
[*]Setup System & Install Dependencies
[*]Install RoninDojo
[*]Go Back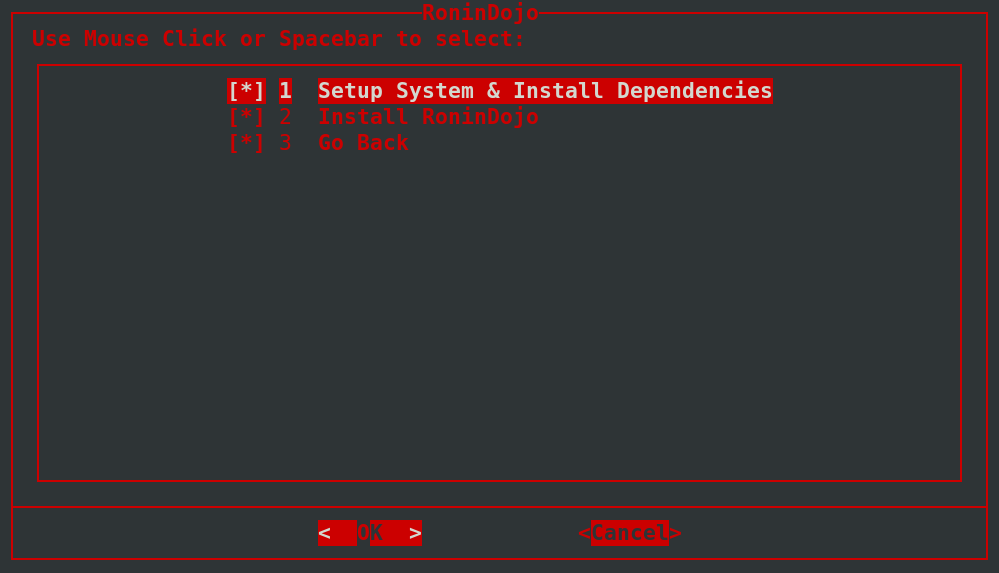 During this install, when prompted, press Y or N for Indexer and Electrs (Electrum Rust Server). Indexer is useful for querying balances, and Electrs is great for anyone that wishes to use a hardware or other mobile wallet with their RoninDojo.
Dont worry if you accidentally select no to both of these, after your IBD is complete you can simply "upgrade" using the Dojo menu and select Indexer or Electrs then.
Once finished installing, you will see each docker container start up. Your RoninDojo is now downloading the enitre bitcoin blockchain. This process can take anywhere between 2 and 4 days depending on your chosen hardware and internet speeds. At this time it is safe to press any letter to continue forward. If you have blockchain data available from a previous installation, then it will be salvaged at this point.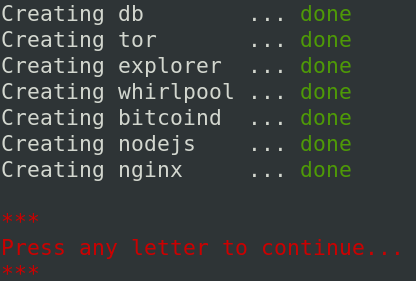 If you selected to install the Indexer or Electrs, the compaction will begin shortly after the bitcoin blockchain is downloaded. This compaction takes about 8 hours.
Please note, there is a Blockchain Data Salvage check built in to RoninDojo. In the unlikely event that you break something, reflash your SD card, and get your machine back online with all your hard earned block data.
Your node will not be fully functional until the initial blockchain download and indexer compaction is complete.
Whilst waiting for your IBD to complete, continue on to the RoninUI section.
See here for more info on Checking Bitcoin Logs and progress.
Check out the Troubleshooting page for more info.
Need help? Join the RoninDojo Chatroom.
Return to Wiki Homepage.