RoninUI is a desktop application that allows you to quickly and easily...
Check the progress of your IBD
Quickly connect your Samourai Wallet to its own Dojo backend via a QR code (see steps below)
View your Dojo Maintenance Tool, Electrs, Whirlpool and Bitcoin explorer credentials
View your logs to ensure everything on your RoninDojo is running smoothly
Stop/Start your Dojo, Whirlpool and Tor services
Send HEX formatted transactions from your own Dojo
Ensure you have Tor browser installed and running on your PC or Laptop. This isn't used directly to access RoninUI, it just provides the neccessary Tor connection.



Download the latest RoninUI file from our downloads page and install using your operating system's usual process.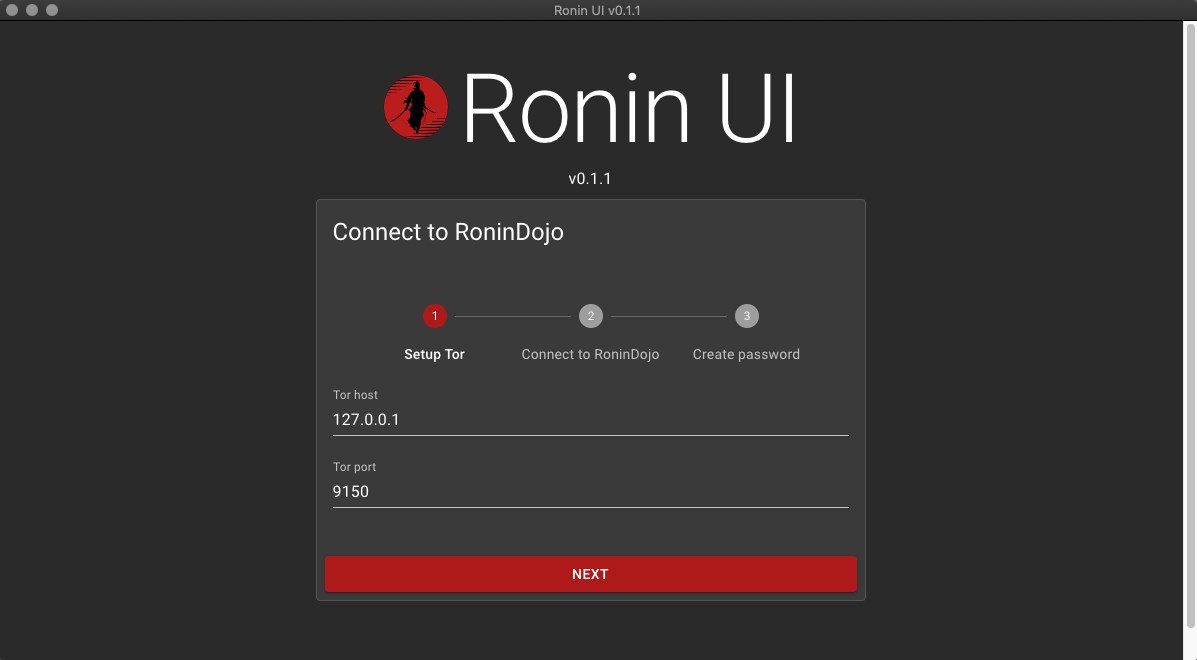 Only modify the Tor host and port if are running your own Tor daemon (Port 9050). Otherwise, leave these as default as shown above and press next. You will then be asked for your Ronin URL and API key.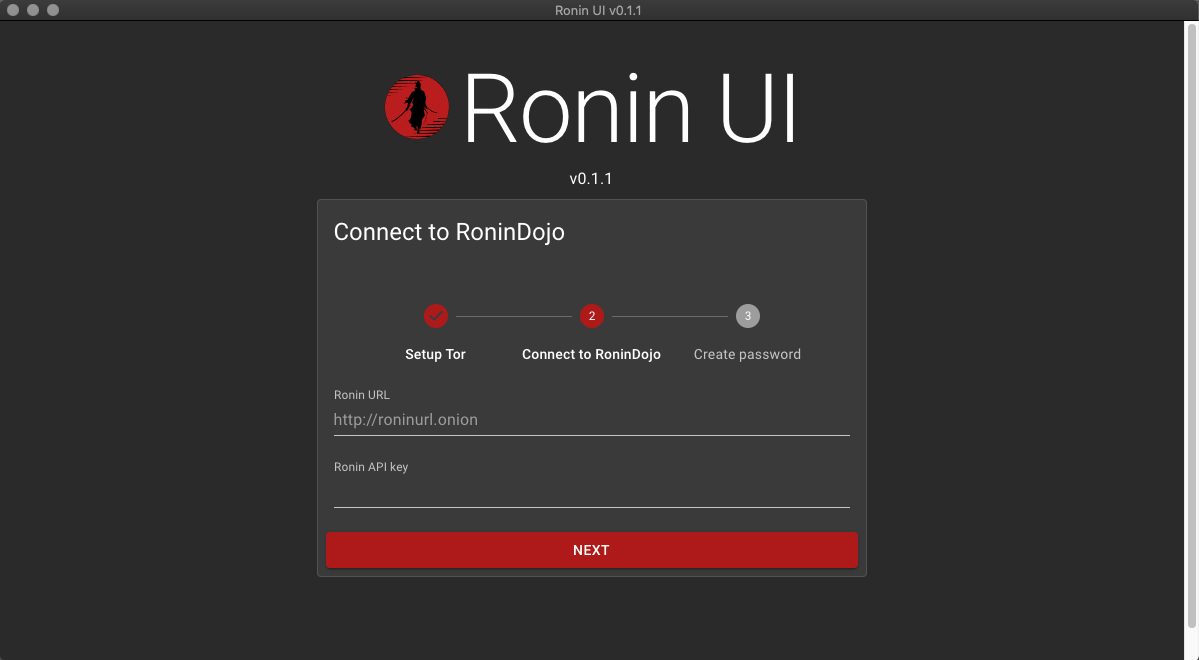 These can be copy/pasted from your Ronin CLI menu using the following steps. UI Backend > Credentials.

Create a password for accessing your Ronin UI and press next.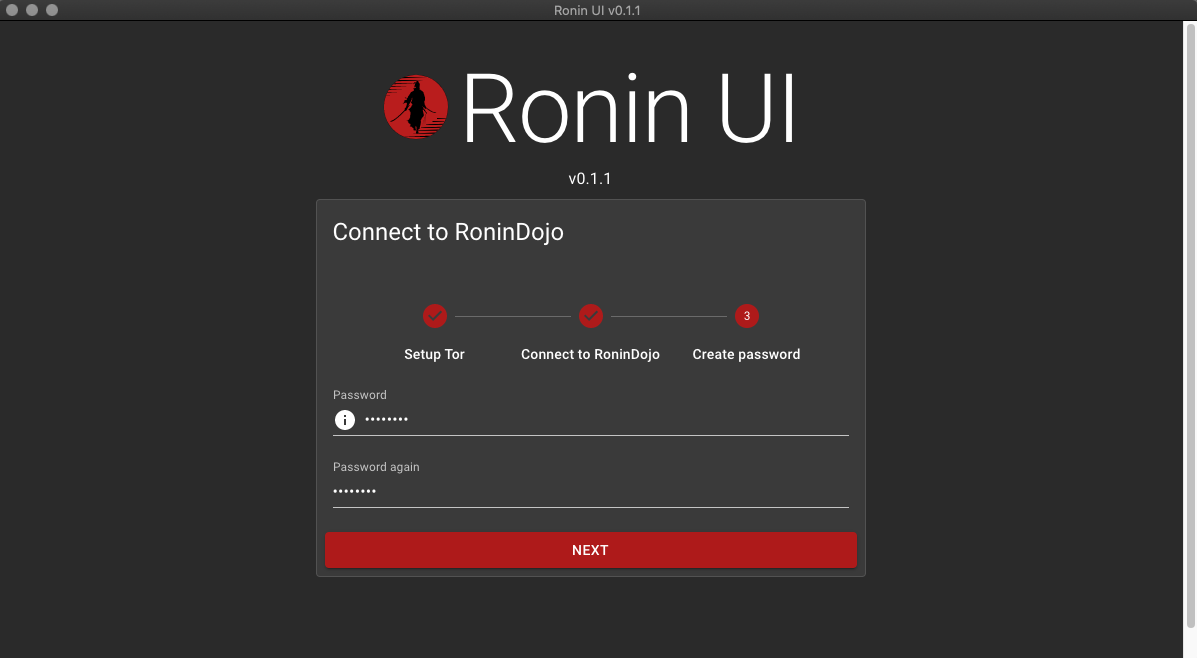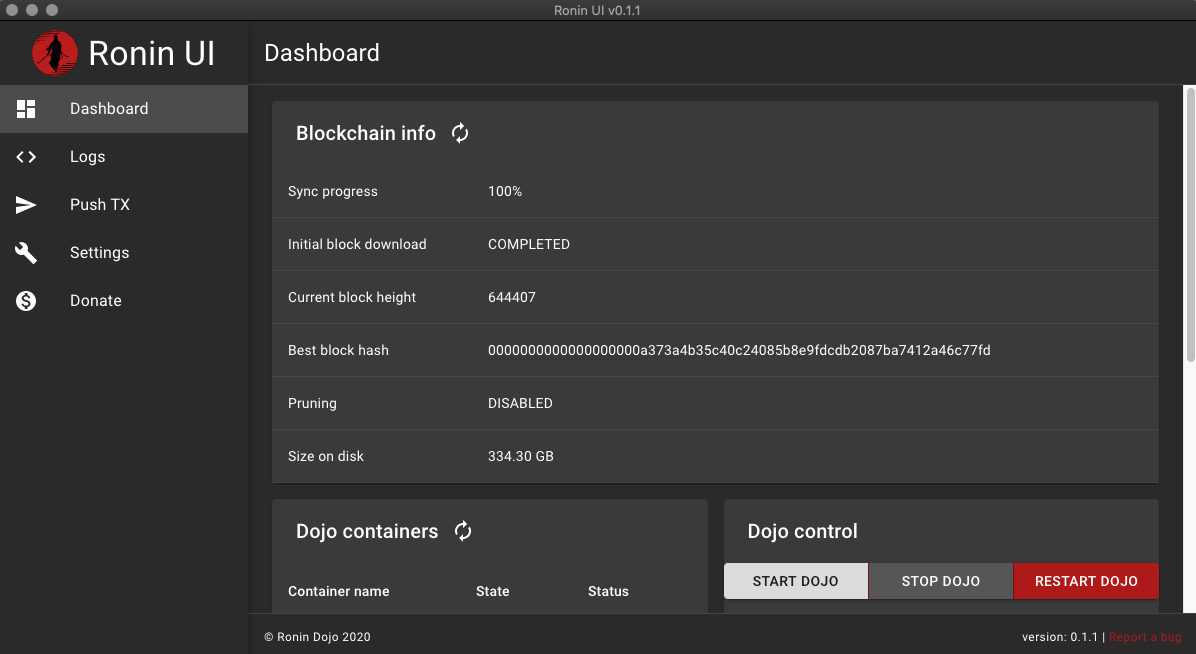 ¶ Pairing Samourai Wallet (to be done after IBD and Indexer/Electrs are complete)
If you are starting with a fresh Samourai Wallet, you only need to complete steps 5 and 6 then continue setting the wallet up using the instructions displayed on your phone.
If you are restoring a wallet that was previously connected to another Dojo, please do not restore using your encrypted backup file as this retains the old connection information and will not work
Open your Samourai Wallet and press the three dots in the top right corner to access the menu. Go to Settings > Wallet > Show mnemonic. Check (and double check) this matches your offline backup.

Back to the menu and press Troubleshoot > Passphrase/backup test. Enter your wallet's passphrase. If you entered this correctly you will be notified. Do not move past this step until the wallet confirms you entered the right passphrase. Without this, you cannot access your bitcoin.

If you don't already know it, make a note of your PayNym. You can access this from the main wallet screen. Press the blue + and then press PayNyms. This is a good way of testing that you recovered the correct wallet at a later stage.

Go to Settings > Wallet > Secure erase wallet.

Restart Samourai Wallet , select main-net and activate Tor. Then press the three dots in the top right corner > Connect to existing Dojo.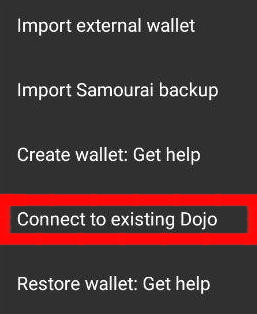 Scan the Dojo connection QR code displayed by your RoninDojo UI (shown below). Alternatively, this pairing QR code can be found within your Dojo Maintenance Tool which is accessed via the Tor browser.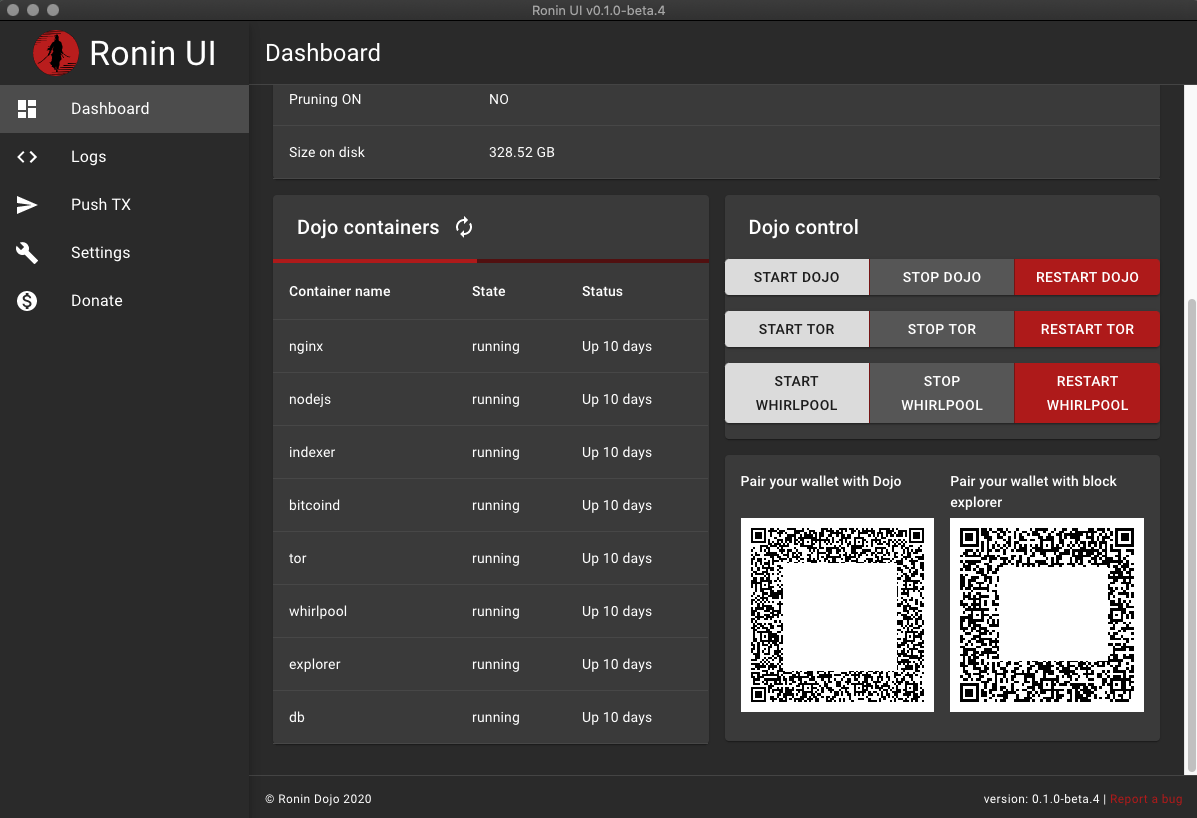 Select the [⋮] (3 dots) in the upper right corner, choose "Import External Wallet", and input your seed words plus passphrase to recover your wallet.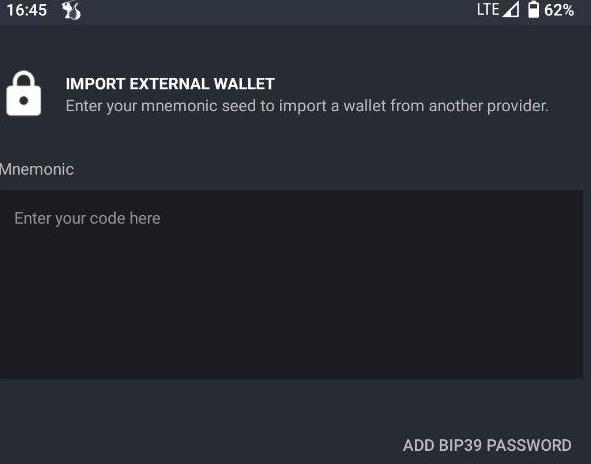 If at this stage you do not see your expected balance, please follow these steps.


¶ Congratulations, you have now setup your RoninUI and Paired your Samourai Wallet to your Dojo!
Continue on to the Whirlpool section.
Check out the Troubleshooting page for more info.
Need help? Join the RoninDojo Chatroom.
Return to Wiki Homepage.