Accessing the Command Line Interface (CLI), often referred to as 'RoninCLI' allows you to carry out more indepth maintenance, access more advanced features, tweak configuration files, and more.
Fear not, for the every day user it is simple to navigate with the aid of the customized graphical interface.
The following steps will teach you how to 'SSH' remote login to the RoninCLI menus.
Sign in to your RoninUI, and navigate to System Info > Network interface.

Copy the IPv4 address to your clipboard.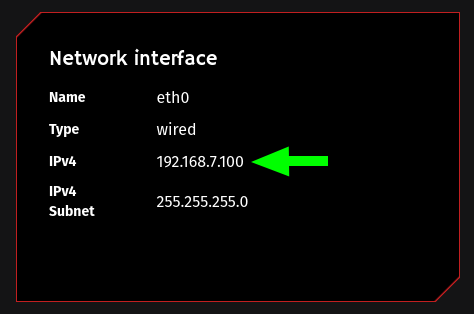 Carry out one of the following according to your computer operating system:
Press keys Cmd + Space
Search for 'terminal', then launch application.
Press Start
Search for cmd, then launch application.
Alternatively you can download and install one of the following, then launch the application:
In the terminal type ssh ronindojo@YouNodeIPaddress then ENTER
Substitue in your IPv4 address. For example ssh ronindojo@192.168.7.100
If this is the first time SSHing into your node, you will be prompted with the following (or similar):
The authenticity of host '192.168.7.100 (192.168.7.100)' can't be established. ECDSA key fingerprint is SHA256:xxxxxxxxxxxxxxxx. Are you sure you want to continue connecting (yes/no/[fingerprint])?
Follow the on-screen instructions to authorise this.
For example, type yes then ENTER
Enter your user password, the same used to sign into your RoninUI.

Next you are prompted with [sudo] password for ronindojo:
Enter your user password again, the same used to sign into your RoninUI.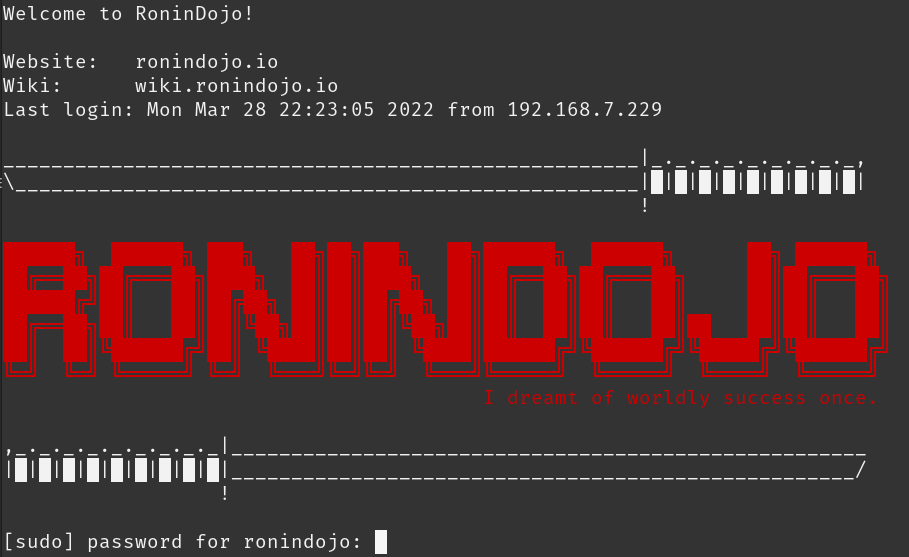 Here is the RoninCLI graphical interface you will be greeted with: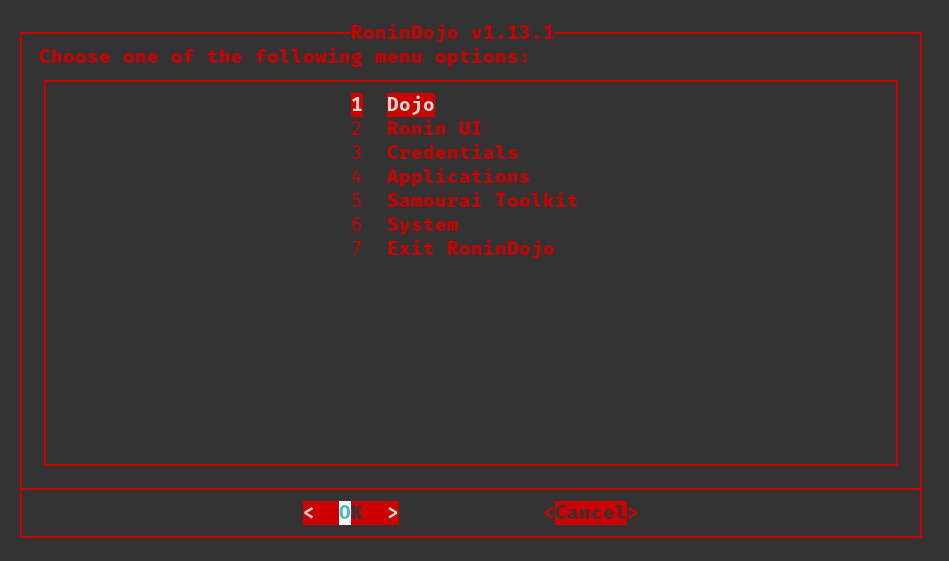 Use your arrow keys to navigate the RoninCLI menus, press ENTER to navigate into sub-menus, credentials, etc.

When viewing logs, you may exit back to the RoninCLI using Ctrl + c

Type in command ronin at any time to open the RoninCLI menus

To navigate to the terminal, select 7 Exit RoninDojo

If in the terminal, to navigate back to the RoninCLI menu, type ronin ENTER
If you have only one RoninDojo node on your network, you may substitute the IP address for 'ronindojo.local' when entering the SSH commend. For example:
ssh ronindojo@ronindojo.local

We recommend you make the IP address of your node static. This can be done by logging into your router's admin panel and setting a static IP address against the node's MAC address. The IP address is variable, the MAC address is not. Doing this will make it quicker and easier to SSH into your node at will.
Ensure the device your are SSHing from (your computer) is on the same network subnet as your RoninDojo node. For example a computer with the IP address 192.168.7.12 would be on the same subnet as RoninDojo node with IP address 192.168.7.50, as they both start with 192.168.7. If the subnets differ, you would either need to:

Connect your computer to the same subnet as your RoninDojo node, SSH, then modify your RoninDojo's firewall rules.

Alternatively you can plug in a USB keyboard and HDMI screen, reboot your node through the RoninUI: Dashboard > RoninDojo > Manage > Reboot, then modify your RoninDojo's firewall rules.
Check out the Troubleshooting page for more info.
Need help? Try out our Support Service.
Join the RoninDojo Chatroom and engage the community.