Sparrow Wallet is a desktop only bitcoin wallet, available on all major platforms that provides a fantastic alternative to Electrum or Specter. Sparrow provides huge amounts of detail to the user relating to their UTXO's, transactions and balances, and is compatible with almost every hardware wallet on the market.
Sparrow Wallet can connect directly to Bitcoin Core, but for better privacy and performance it is recommended to back Sparrow Wallet using an Electrum Server. RoninDojo comes with Electrum Rust Server (Electrs) by default as an indexer. Using Electrs still allows for performant use of Samourai Wallet but also facilitates the connection to any othe wallet application that opts to use an Electrum Server as their backend.
If you have just set up your RoninDojo, after the blockchain has been downloaded, it takes Electrs around 10 - 12 hours to fully index. Do not attempt to carry out the following steps until this time has passed.
To confirm that Electrs has completed indexing you can view the Indexer logs on your RoninUI. If they are updating every 30 seconds and moving down the screen then you are good to go. If not, give it some more time before continuing.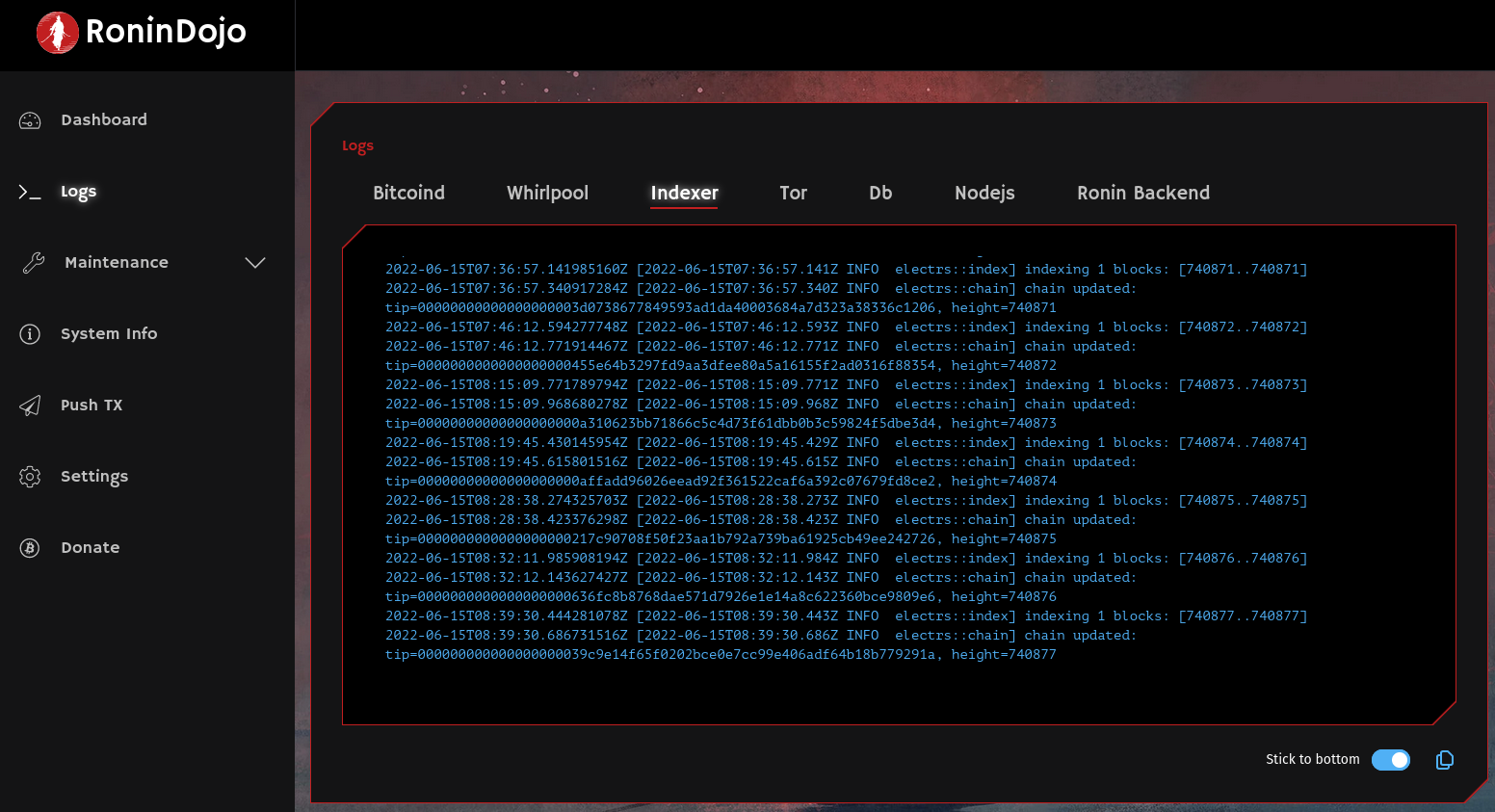 Download and install the wallet from the Sparrow Wallet Downloads page. This wallet is available for Mac, Windows and Linux.
In the RoninCLI navigate to Credentials → Electrs and copy the Tor hidden service address.

Open Sparrow and go to File → Preferences → Server.

Select 'Private Electrum' in the server type section.

Paste the Electrs .onion address into the 'URL' field in Sparrow.
Delete http:// from the start of the address.
Set the 'URL' port to 50001.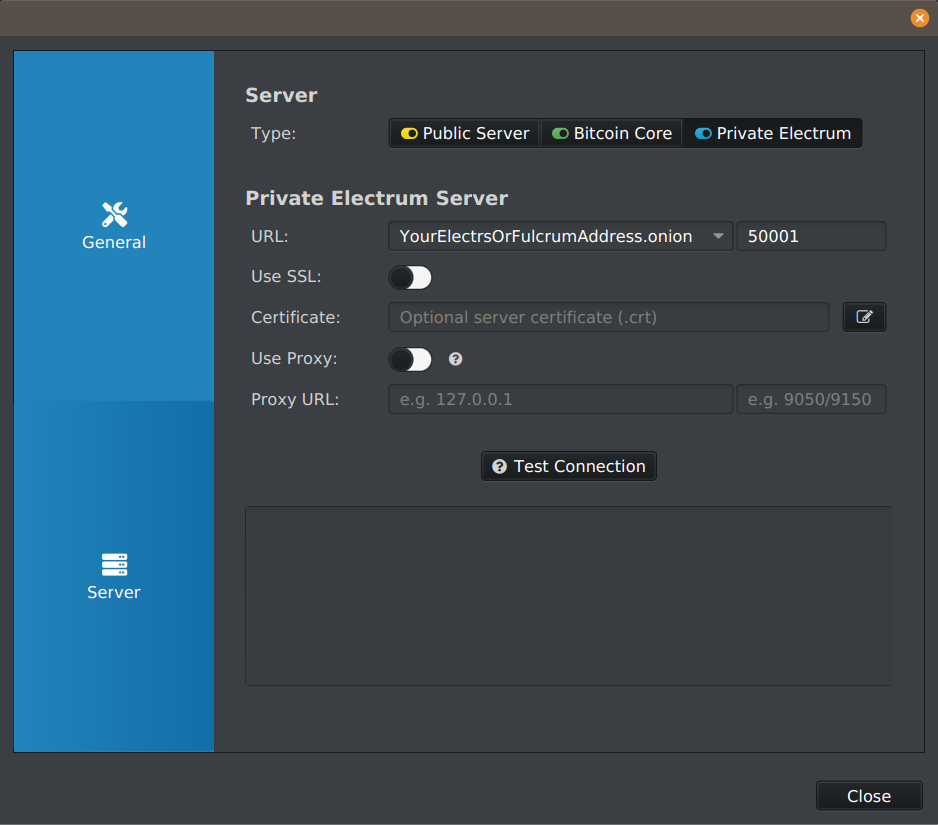 Click 'Test Connection' and you should see a success message at the bottom of the screen.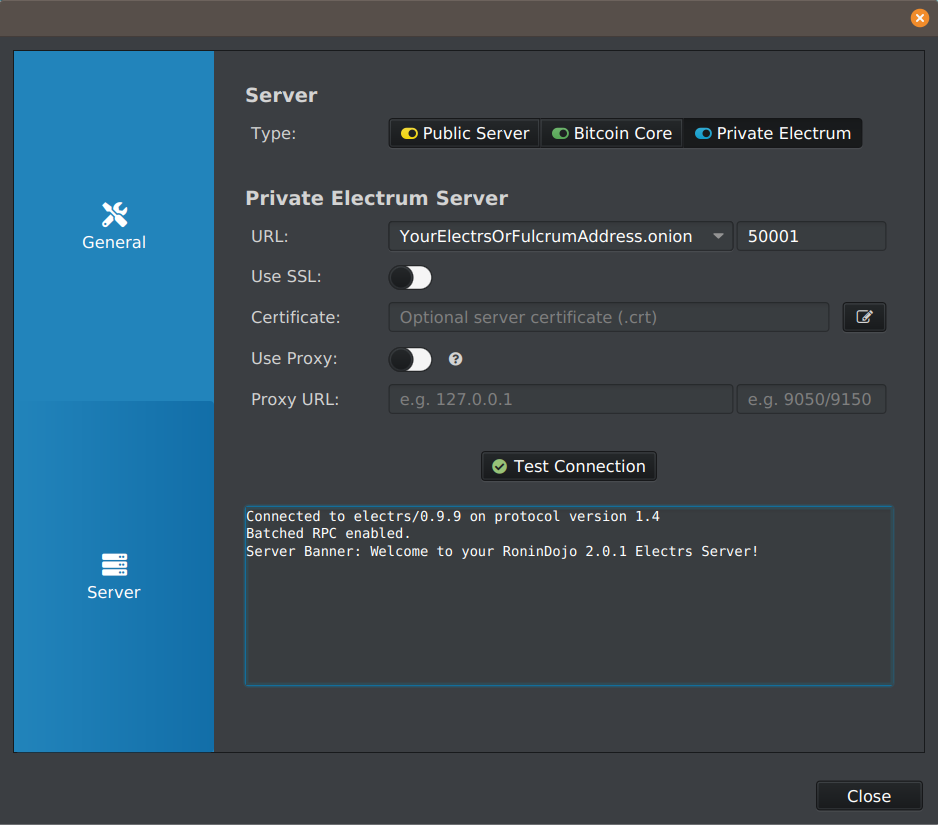 ¶ Sparrow Usage - Tips and Considerations
Importing a Samourai Wallet into Sparrow
If you choose to import your Samourai Wallet into Sparrow, you should set the derivation path to m/84'/0'/0'
After you have restored your wallet, to add your Whirlpool accounts in Sparrow navigate to Settings → Add Account → Whirlpool.
For user who have a 'deep' postmix account (where the address index is high due to hundreds of Whirlpool remixes), the postmix balance within Sparrow may be inaccurate. If so carry out the following steps:

Go to Settings → Advanced
Change the gap limit to 150, hit ENTER, then click Close
Click Apply
Then go to View → Refresh Wallet
Wait for your wallet to resync.

Samourai Wallet has two additional script types within the deposit wallet: Legacy and Segwit Compatibiltiy (Nested Segwit). These are used within Samourai Wallet to receieve bitcoin to addresses beginning with 1 or 3, and are also used for the like-type change address privacy feature. To gain access to your bitcoin which may have been sent to these two types of addresses, within Sparrow you will need to restore two additional new wallets using derivation path m/44'/0'/0' and m/49'/0'/0' setting the 'script type' to Legacy and Nested Segwit respectively within the settings menu.
It is possible to use Sparrow wallet to watch the public keys (xPUB, yPUB, or zPUB) of other bitcoin wallets. This allows you to track the balances of other bitcoin wallets without saving the private key (which is required for spending) on your Sparrow desktop application.
Create a watch-only wallet in Sparrow by selecting:
File → New Wallet → Add name → "xPUB / Watch Only Wallet"
If you wish to watch a public key from your Samourai Wallet, ensure you enter into Sparrow the correct derivation path for the intended the public key, as below:
xPUB
Derivation: m/44'/0'/0'

yPUB
Derivation: m/49'/0'/0'

zPUB
Derivation: m/84'/0'/0'
zPUB
Derivation: m/84'/0'/2147483645'
zPUB
Derivation: m/84'/0'/2147483646'
Note:
When watching a Post-mix Account, be sure to carry out the following for an accurate display of your balance:
1. Go to Settings → Advanced
2. Change the gap limit to 150, hit ENTER, then click Close
3. Click Apply
4. Then go to View → Refresh Wallet
5. Wait for your wallet to resync.
For more information on how to utlize your hardware wallets, see this Sparrow Wallet Guide and Sparrow Wallet Video.
Check out the Troubleshooting page for more info.
Need help? Try out our Support Service.
Join the RoninDojo Chatroom and engage the community.