There are two main ways to recover your Samourai Wallet, via the encrypted backup file + passphrase or via your seed words + passphrase.


By default your Samourai Wallet will save a samourai.txt file onto your phone. This file is essentially your seed words, encrypted by your wallet passphrase. It also contains meta data such as Dojo connection details and PayNym connections. This backup file can be stored on your phone or you can even export it to a USB drive for extra redundancy.
To recover using this method...
If you have an existing Samourai wallet, check your seed words and passphrase.
Press the ⋮ in the top-right corner and select Settings then Wallet.
At the bottom of this screen tap Secure erase wallet
From the start screen, select main net and activate Tor
Toggle the Dojo button on to connect to your own Dojo server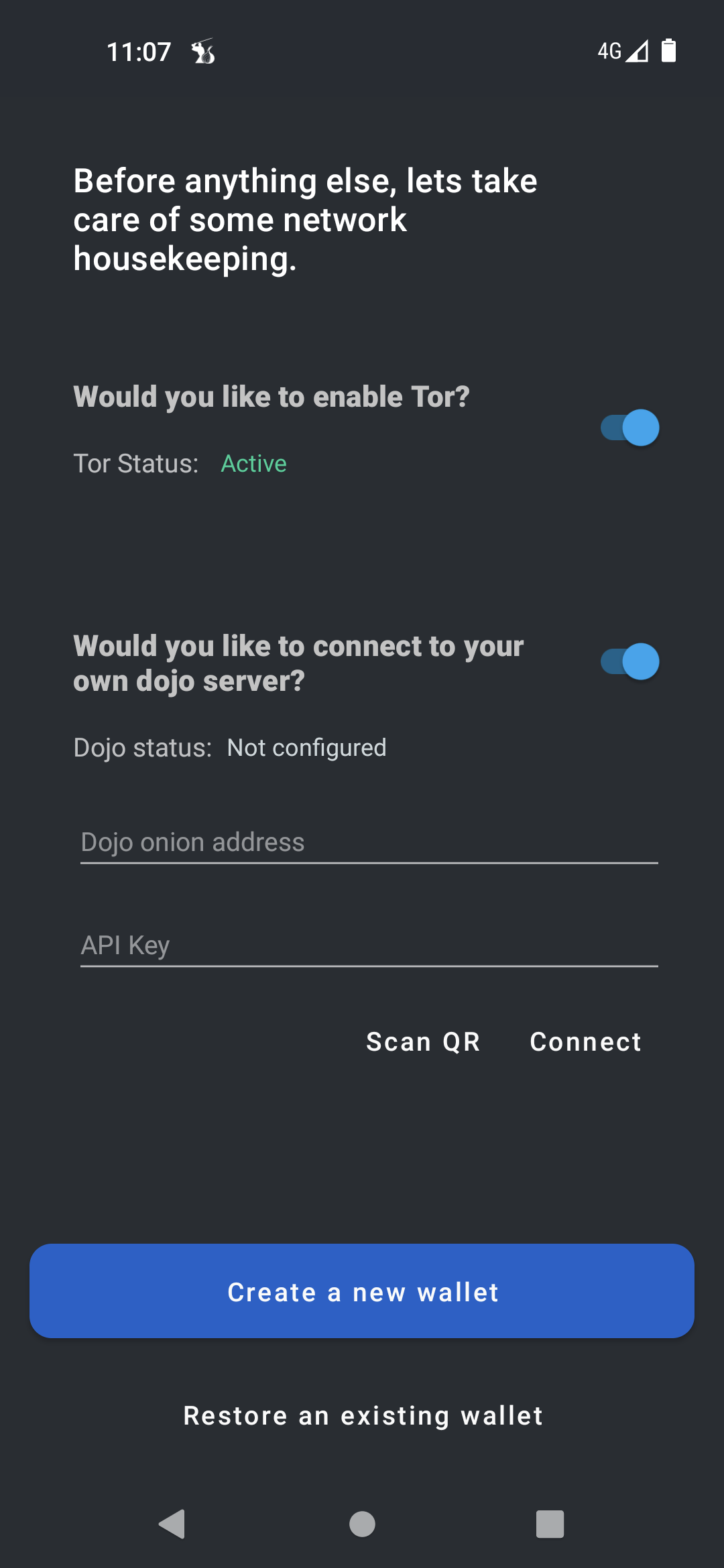 In RoninUI, click the Manage button under the Dojo section to display your pairing QR code. Scan the QR code to pair with your Samourai Wallet. This QR code can also be found within your Dojo Maintenance Tool.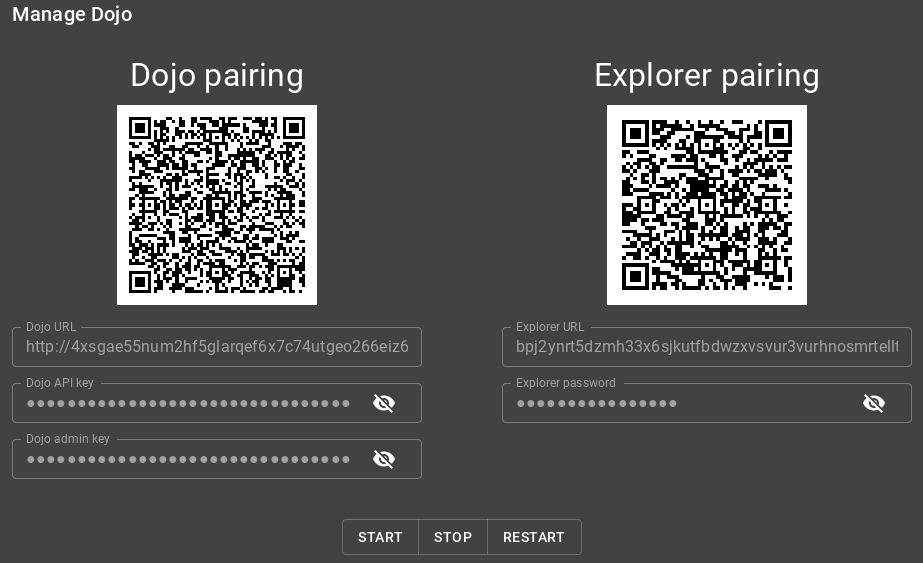 Tap Restore an existing wallet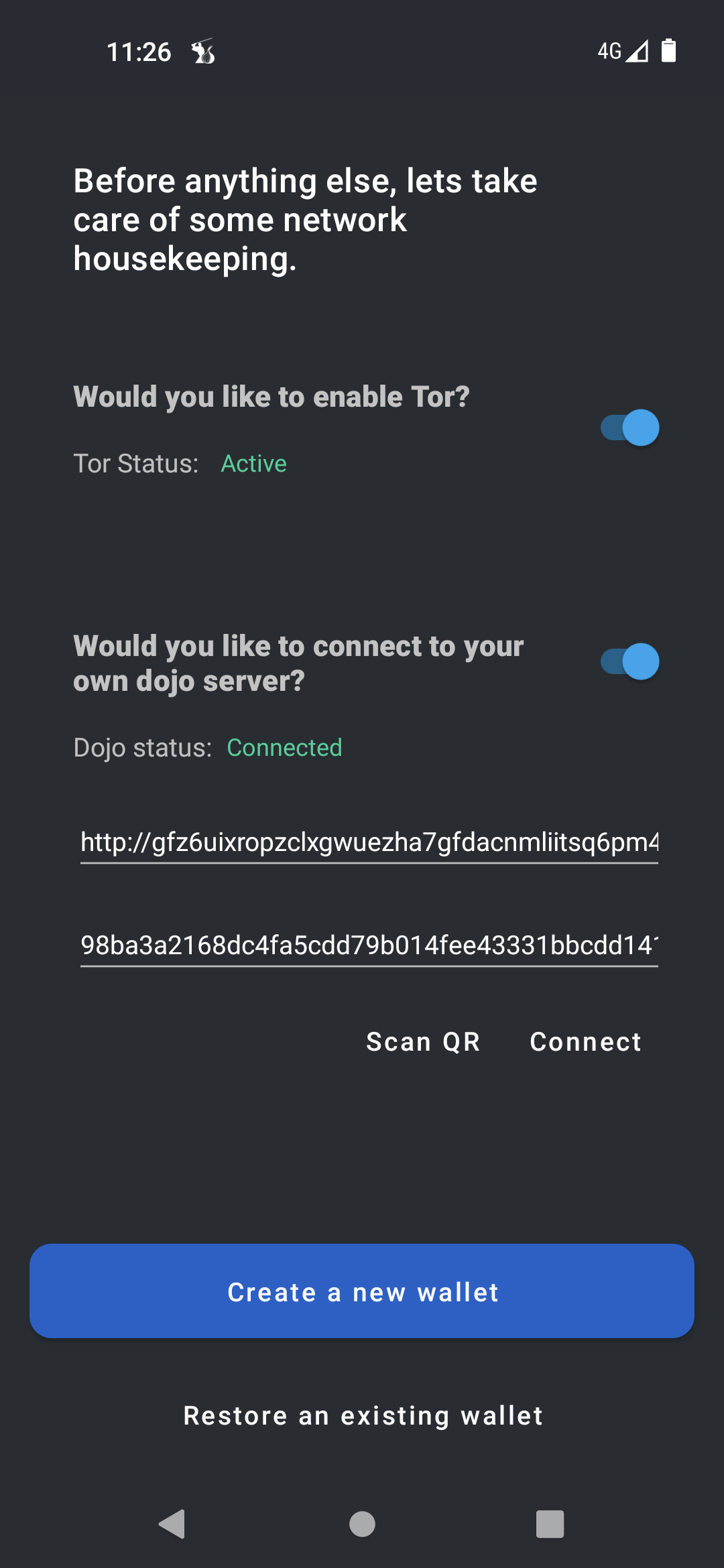 Tap I have a Samourai backup file

Carefully enter your passphrase then tap Finish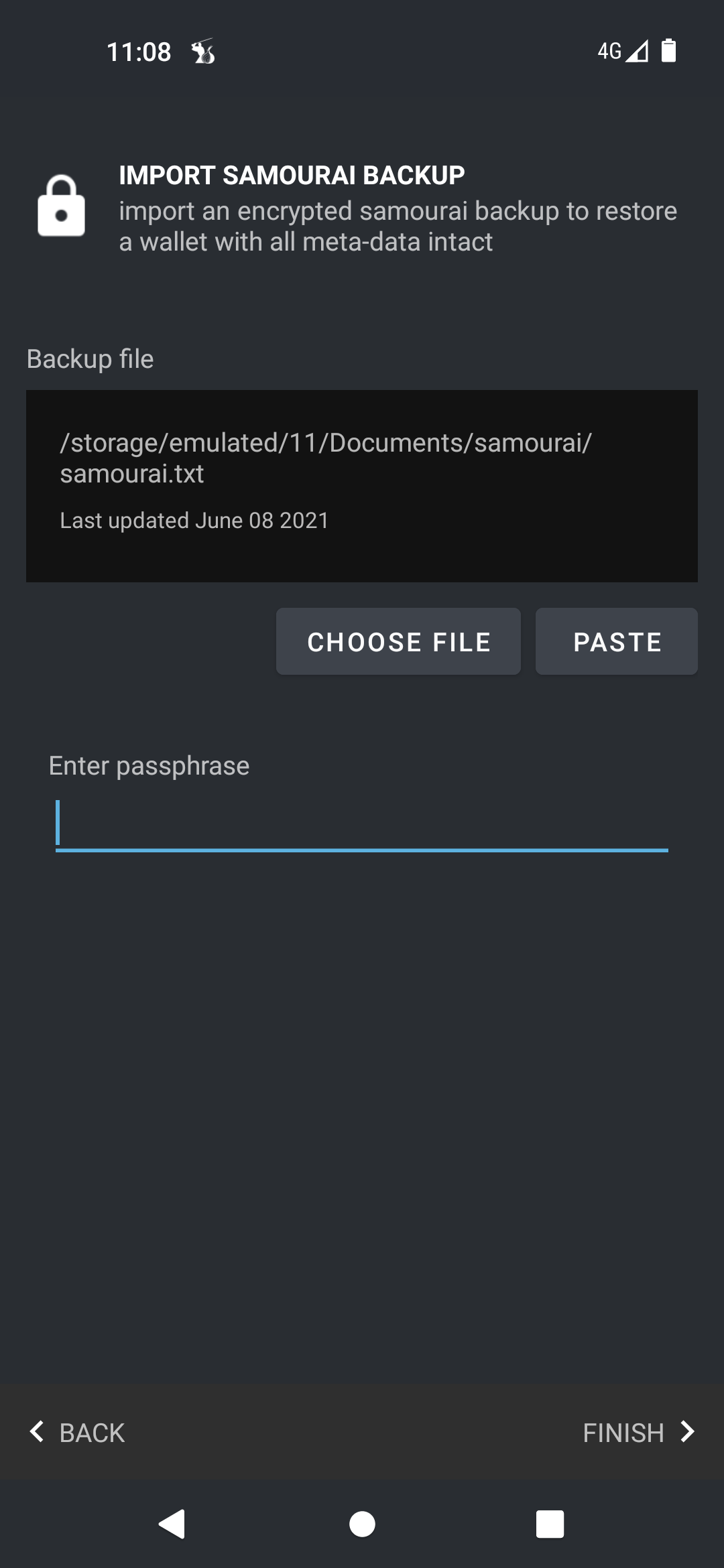 If you have a RoninDojo backed wallet, it will never default back to the Samourai Servers. The only way to "un-Dojo" your wallet is to recover via seed words + passphrase (see below)
You can import and restore wallet seeds that were created in any wallet that follow the following bitcoin standards at minimum: BIP39, BIP44. In addition we also fully support BIP49, BIP84 segwit standards. Check with your external wallet provider to determine if they follow these Bitcoin standards.
On the main screen of an uninitalized Samourai Wallet press the Restore an existing wallet then tap I have an external wallet

On the first line enter your wallet's secret words. Depending on the wallet you are restoring from this may be 12 or 24 words.

If your wallet has a BIP39 Passphrase press the Add BIP39 Passphrase button and enter it carefully. Many wallets do not have one of these, so if you are unsure leave it blank.

You will now be asked to create and confirm a PIN code between 5 and 8 digits long.
A successful restore will display the expected balance of your wallet and a complete transaction history. If the restore is unsuccessful a 0 balance and empty history would be displayed.
In the case of an unsuccessful restore try the above steps again taking care to make sure the recovery words are correct and if there is a BIP39 passphrase, it is correctly entered.
Log into your Dojo maintenance Tool using the Tor browser. You will find your admin key within the Ronin CLI.
Ronin Menu -> Dojo Menu -> Show Tor Hidden service Address (To be updated when GUI launches)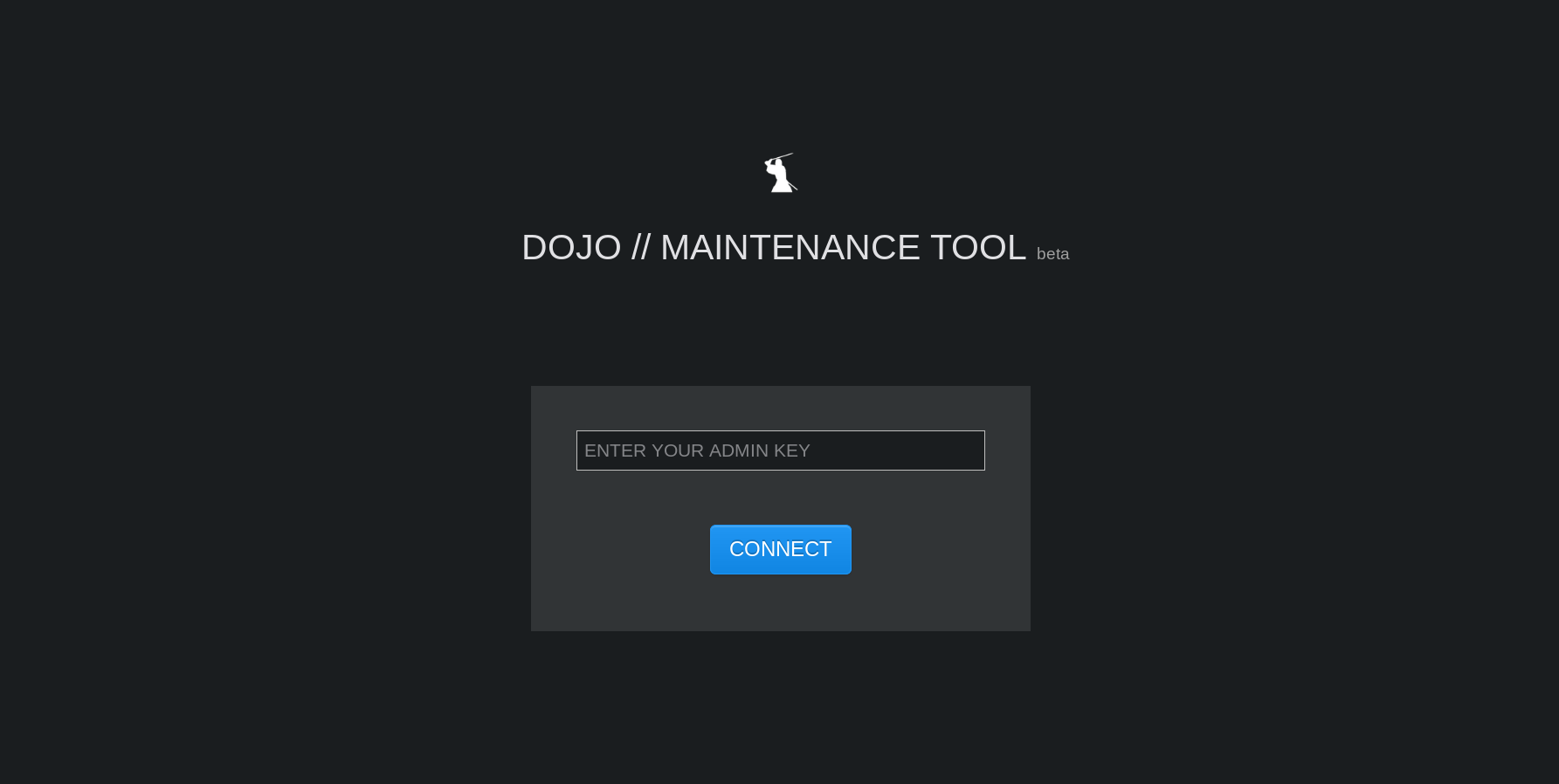 You now need to check that there are no errors shown in the Dojo status tab. The main thing to look for is the block heights not matching between the Full node and tracker sections . If you see something like the below where the block heights match and a full house of green ticks then you are good to move on to the next step.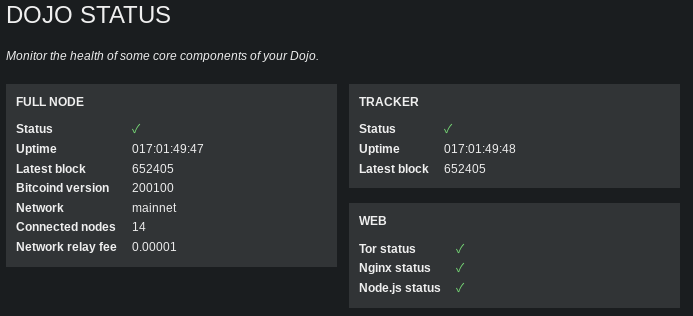 On your Samourai mobile wallet tap the three vertical dots in the top right hand corner of the screen the go to Settings > Wallet > Show XPUB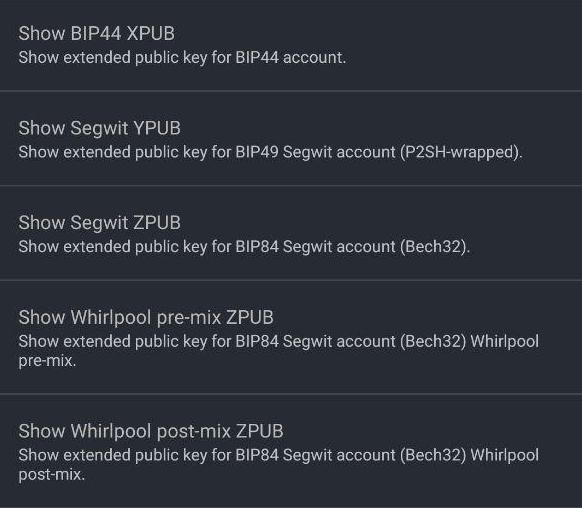 Which extended public key you choose will depend where your funds you are looking for are located within your wallet.
BIP44 XPUB = Your deposit account for addresses starting with a '1'

Segwit BIP49 YPUB = Your deposit account for addresses starting with a '3'

Segwit BIP84 ZPUB = Your deposit account for addresses starting with 'bc'


By default Samourai Wallet uses BIP84 ZPUB so it's highly likely that this is the one you will need if you are scanning for a balance in your deposit account.
Whirlpool pre-mix ZPUB = The account for any funds sent to Whirlpool that have not yet been mixed

Whirlpool post-mix ZPUB = The account where your mixed funds will be sat
4. Copy the PUB of the account you wish to check using Dojo Maintenance Tool
ProTip - You can send your extended public keys from your mobile wallet to your computer (please use encrypted email) by following these steps
Three vertical dots on the home page > Settings > Troubleshoot > Send backup to support
This will open the email app of your choice and paste in a data dump of your wallet details (including your XPUBS). Simply change the email recipient to your own email address.
Back in Dojo Maintenance Tool click on 'xpubs tool' and enter the xpub you want to rescan.

Once you hit enter you should get a 'processing' message, this can take a couple of minutes so be patient.


Once this is complete you should see a 'Status ok' result.
The result should look similar to the below. The main things to look for here are...
Tracked since = Date
Balance = Your expected balance
Derivation = The derivation type relevant to your xpub (see step 4)
If the derivation type is incorrect you can 'retype this xpub' to the desired derivation.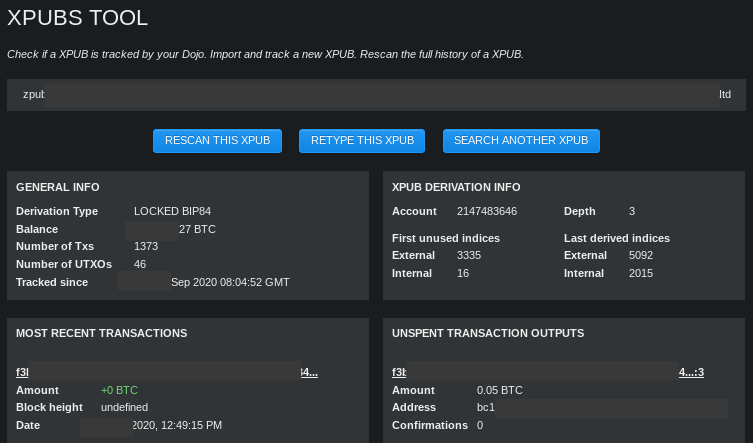 If you do not see a balance or the result indicates that Dojo is not tracking the xpub, press 'rescan this xpub'. Start with the default values and hit rescan. If you still do not see your balance, increase the lookahead value by 100 and repeat.

Restart your Samourai Wallet app and wait for the loading line to disappear and navigate to the part of the wallet where you expect to see your funds eg Deposit (the wallet opens on this page), Premix or Postmix and you should see all of your sats.

If you have funds stored in multiple parts of the wallet simply repeat Steps 4-8 for the relevant extended public key.


Do you need to erase your Samourai Wallet or start fresh for any reason? Follow these steps first to make sure you do not lose your access to your funds!
Open your Samourai Wallet and press the three dots in the top right corner to access the menu. Go to Settings > Wallet > Show Mnemonic. Check (and double check) this matches your backups.

In the menu and press Troubleshoot > Passphrase/backup Test and enter your wallet's passphrase. If you entered this correctly you will be notified. Do not move past this step until the wallet confirms you entered the right passphrase. Without this, you cannot access your bitcoin.

If you don't already know it, make a note of your PayNym. You can access this from the main wallet screen. Press the blue + and then press PayNyms. This is a good way of testing that you recovered the correct wallet at a later stage.

Once all steps above are complete, you can use the the following menu options to erase the wallet Settings > Wallet > Secure Erase Wallet or just uninstall the App.
Need help? Try out our Support Service.
Join the RoninDojo Chatroom and engage the community.